甲基化DNA免疫沉淀试剂盒,MeDIP统统抓下来
发布者:艾美捷科技发布时间:2018-05-25
【前情回顾】DNA甲基化(5-mc)极速分析试剂盒 DNA甲基化免疫共沉淀技术(MeDIP or mDIP) ,是一个大范围的染色体或基因组纯化技术,在分子生物学中被用于富集DNA甲基化序列,它采用抗体或甲基化DNA结合蛋白来捕获富集甲基化DNA的技术,这种技术可以发现基因组中高度甲基化的区域,如CpG岛。MeDIP技术特别适用于高通量测序以及芯片杂交检测。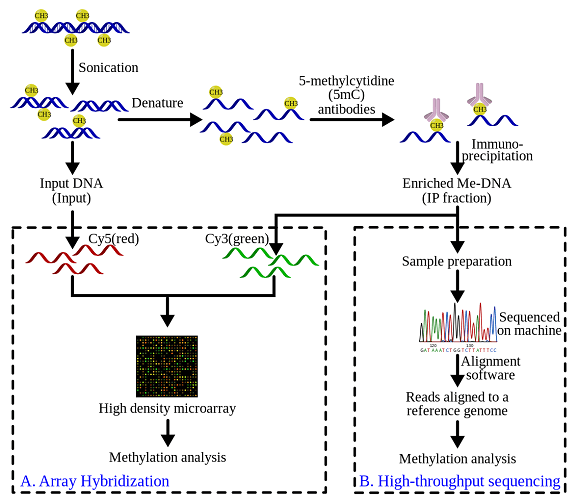 《MeDIP 的两种广泛应用》
艾美捷科技作为专业的生命科学领域解决方案供应商,为您推荐来源于全球最畅销,发表文章最多的甲基化DNA免疫沉淀(MeDIP)试剂盒:
产品名称及描述
货号
产品说明

Methylamp Methylated DNA Capture (MeDIP) Kit

P-1015

详情
MeDIP试剂盒原理: Methylamp甲基化DNA免疫沉淀试剂盒中含有捕获样品中甲基化DNA所需的所有试剂,并且,本试剂盒中还有一种CHIP-级5-MC抗体,以及正常小鼠的IgG阴性对照.DNA打断之后,加入微孔板中,被抗体捕获.然后DNA从复合物上解离下来,通过本公司特别设计的高速离心柱子纯化,洗脱下来的DNA可以被用于随后的各种扩增反应。
MeDIP试剂盒优势:
1、高效地浓缩富集甲基化DNA,>98%;
2、同类产品中最快速的试剂盒,3小时内完成反应;
3、96孔板模式使研究人员能根据自己需要选择手工或是高通量分析;
4、附有DNA纯化柱子:节省时间和人力;
5、操作简便、结果可靠、统一的分析条件;
实验流程示意图与结果展示: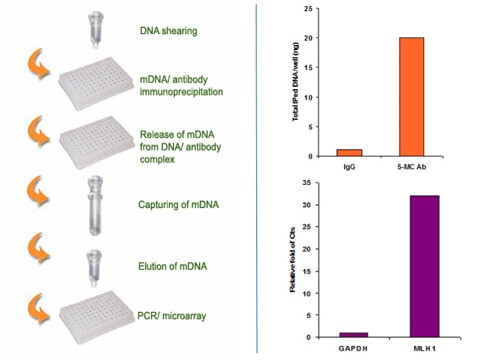 《已发表28篇文章》
Linbo Gao et. al. (February 2018). Sulforaphane epigenetically demethylates the CpG sites of the miR-9-3 promoter and reactivates miR-9-3 expression in human lung cancer A549 cells Journal of Nutritional Biochemistry.
Cao D et. al. (January 2018). S-adenosylmethionine reduces the inhibitory effect of Aβ on BDNF expression through decreasing methylation level of BDNF exon Ⅳ in rats. Biochem Biophys Res Commun. 495(4):2609-2615.
van der Wijst MG et. al. (December 2017). Experimental mitochondria-targeted DNA methylation identifies GpC methylation, not CpG methylation, as potential regulator of mitochondrial gene expression. Sci Rep. 7(1):177.
Daraei A et. al. (July 2017). Epigenetic Changes of the ESR1 Gene in Breast Tissue of Healthy Women: A Missing Link with Breast Cancer Risk Factors? Genet Test Mol Biomarkers.
Wang HD et. al. (June 2017). Detection of fetal epigenetic biomarkers through genome-wide DNA methylation study for non-invasive prenatal diagnosis. Mol Med Rep. 15(6):3989-3998.
Khakpour G et. al. (March 2017). Methylomics of breast cancer: Seeking epimarkers in peripheral blood of young subjects.umour Biol. 39(3):1010428317695040.
Manish Mishra; Renu A. Kowluru et. al. (October 2016). The Role of DNA Methylation in the Metabolic Memory Phenomenon Associated With the Continued Progression of Diabetic Retinopathy. IOVS. 57:5748-5757.
Xu X et. al. (March 2016). Hypoxia-induced Endothelial-Mesenchymal Transition is associated with RASAL1 promoter hypermethylation in human coronary endothelial cells. FEBS Lett.
Li W et. al. (March 2016). Epigenetics reactivation of Nrf2 in Prostate TRAMP C1 Cells by curcumin analog FN1. Chem Res Toxicol.
Tan X et. al. (January 2016). DNMT1 and HDAC2 Cooperate to Facilitate Aberrant Promoter Methylation in Inorganic Phosphate-Induced Endothelial-Mesenchymal Transition. PLoS One. 11(1):e0147816.
Tan X et. al. (January 2016). High inorganic phosphate causes DNMT1 phosphorylation and subsequent fibrotic fibroblast activation. Biochem Biophys Res Commun.
Mishra M et. al. (August 2015). Epigenetic Modification of Mitochondrial DNA in the Development of Diabetic Retinopathy. Invest Ophthalmol Vis Sci. 56(9):5133-42.
Guo Y et. al. (March 2015). Curcumin inhibits anchorage-independent growth of HT29 human colon cancer cells by targeting epigenetic restoration of the tumor suppressor gene DLEC1. Biochem Pharmacol. 94(2):69-78.
Hong S et. al. (January 2015). Epigenetic regulation of genes that modulate chronic stress-induced visceral pain in the peripheral nervous system. Gastroenterology. 148(1):148-157.e7.
Tampe B et. al. (December 2014). Induction of Tet3-dependent Epigenetic Remodeling by Low-dose Hy. EBioMedicine. 1(1)
Green TJ et. al. (August 2014). Anti-viral gene induction is absent upon secondary challenge with double-stranded RNA in the Pacific oyster, Crassostrea gigas. Fish Shellfish Immunol. 39(2):492-7.
Skowronki K et. al. (July 2014). Genome-Wide Analysis in Human Colorectal Cancer Cells Reveals Ischemia-Mediated Expression of Motility Genes via DNA Hypomethylation. PLoS One. 9(7):e103243.
Wang J et. al. (July 2014). MicroRNA-152 Regulates DNA Methyltransferase 1 and Is Involved in the Development and Lactation of Mammary Glands in Dairy Cows. PLoS One. 9(7):e101358. Michailidi C et. al. (April 2014). Genome-wide and gene-specific epigenomic platforms for hepatocellular carcinoma biomarker development trials. Gastroenterol Res Pract. 2014:597164.
Wang HD et. al. (April 2014). DNA methylation study of fetus genome through a genome-wide analysis. BMC Med Genomics.7:18.
Koch R et. al. (April 2014). Populational equilibrium through exosome-mediated Wnt signaling in tumor progression of diffuse large B-cell lymphoma. Blood. 123(14):2189-98.
Pol Bodetto S et. al. (October 2013). Cocaine represses protein phosphatase-1Cβ through DNA methylation and Methyl-CpG Binding Protein-2 recruitment in adult rat brain. Neuropharmacology. 73:31-40.
Zhang TY et. al. (January 2013). Epigenetic mechanisms for the early environmental regulation of hippocampal glucocorticoid receptor gene expression in rodents and humans. Neuropsychopharmacology. 38(1):111-23.
Tricker PJ et. al. (June 2012). Low relative humidity triggers RNA-directed de novo DNA methylation and suppression of genes controlling stomatal development. J Exp Bot. 63(10):3799-813.
Yu F et. al. (January 2012). MicroRNA 34c gene down-regulation via DNA methylation promotes self-renewal and epithelial-mesenchymal transition in breast tumor-initiating cells. J Biol Chem. 287(1):465-73.
Korostowski L et. al. (November 2011). Enhancer-driven chromatin interactions during development promote escape from silencing by a long non-coding RNA. Epigenetics Chromatin. 4:21.
Zhou FC et. al. (April 2011). Alcohol alters DNA methylation patterns and inhibits neural stem cell differentiation. Alcohol Clin Exp Res. 35(4):735-46.
Hicks SD et. al. (September 2010). Ethanol-induced methylation of cell cycle genes in neural stem cells. J Neurochem.114(6):1767-80.
艾美捷科技与国内外优秀的生物试剂供应商保持着密切的合作关系,目前已成为众多国际知名品牌的中国总代理或一级代理,主要包括:Abbkine、Merck Millipore、Origene、AAT Bioquest、Cayman Chemical、Abnova 、Biovision、ProSpec、Hycult Biotech 、Equitech-Bio、Trevigen、Alomone Labs、Epigentek、ImmunoReagents 、Jackson、SouthernBiotech、US Biological 、Caisson Labs等,可以在第一时间为用户提供最前沿的专业资讯、完备的产品及物流服务。